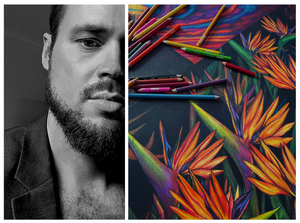 GOLIATH IS AN AWARD WINNING ARTIST & AUTHOR BASED IN MELBOURNE, AUSTRALIA.
HIS WORK TENDS TO FOCUS ON PSYCHOLOGY, SPIRITUALITY, NATURE & THE OCCULT.
HE WORKS IN A VARIETY MEDIUMS, INCLUDING OILS, ACRYLIC, CHARCOAL, PENCIL & SCULPTURE.
Some Customer Reviews
"Absolutely beautiful deck, probably the best presented Deck I have bought this year and the artwork is stunning, the images speak to me and love the bonus cards, its up there on the list of my favourite Tarot Decks Thanks."
"This is UNBELIEVABLE!! I have been doing readings and teaching the Tarot my whole life! The beauty, detail and complexity of what he has done in each illustration and his explanations in the Guidebook are just totally unparalleled! I have never seen anything like this! I feel like this is like a rare "Blood Moon" of the Tarot. A deck like this only comes out every few decades! I'm so fascinated and intrigued.. "Who is Goliath"??"
"This Deck is taking tarot into such a new place! The level of symbolism and detail in each illustration is absolutely incredible! I could easily spend days looking at it! And the book is a stand alone masterpiece as well! So in-depth! We can all see why this took the artist 4 years to bring out! It is a triumph bravo! Well done! PS: The images on this website are absolutely impeccable to 🙌 My wife and I can't wait to see this out there even more!"
"A beautiful deck with beautiful descriptions accompanying. This deck really speaks to me and is so different from the others. Highly recommend."